Why Choose Us?
Free Estimates

Available 24/7/365

60 Minute Rapid Response

Fully Licensed And Insured

We Work With Your Insurance Company
Call Now (248) 883-3340
Disaster Cleanup and Restoration Company in Troy Michigan
Have you suffered from a water damage disaster in Clawson, Madison Heights, Troy or Oakland County? Call Service Pros today for 24/7 emergency services. Our team of disaster cleanup professionals work to repair homes and businesses that have suffered from unexpected water damage or fire disasters. As a local Michigan restoration company, you can feel confident we are going to restore and rebuild your property quickly from any type of disaster. Our goal is to make the process super easy, we can work with your insurance company from start to finish.
Call Our 24 Hour Hotline (248) 883-3340, We Service all of Oakland County.
For over a decade, the responsive team from Services Pros of Troy has diligently served property owners in Michigan, handling both minor and major water damage scenarios with deep-rooted expertise in disaster recovery. Our local Troy area restoration crew has aided hundreds of homeowners and businesses affected by water damage, utilizing top-of-the-line technology to rapidly extract excess water and initiate the property drying process.
You've probably seen our trucks in neighborhoods throughout Troy (Bayberry Place, Oak River, Northfield Hills, Crescent Ridge), we are on call 24/7 to handle any size property disaster.
Troy's Go-To Solution for Flood Cleanup, Sewer Backups, and Water Damage from Burst Pipes
Should your home or business fall prey to water, fire, mold, or storm damage, rest assured that Service Pros stands ready to assist. Our proficiency in restoring critically damaged properties is bolstered by years of experience. Our professional Service Pros team specializes in comprehensive, swift property restoration. Save yourself the hassle of personally managing remediation; let us dispatch a dedicated, hardworking team to kickstart the restoration process immediately!
A Trusted Name in Michigan for Disaster Recovery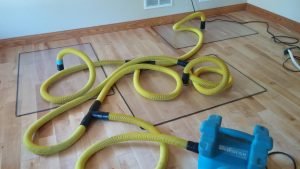 Water damage presents one of the most unpredictable and destructive threats to your property, be it minor leaks or severe flooding. However, Service Pros possesses the expertise and state-of-the-art tools to restore your premises. Our well-trained employees can tackle unique challenges posed by different properties. With Service Pros, you can be confident that your water-damaged property will be revived to its original state at an unbeatably fair price.
Your Local Troy and Oakland County Restoration Company for Black Mold, Hoarding, Trauma Cleaning, and More – Call (248) 883-3340
Fires, as deadly and devastating as they are, can break out unpredictably in homes or businesses. Post-fire, your immediate contact should be Service Pros. Our experienced team, combined with cutting-edge equipment, will restore your fire-impacted property to its former state. Besides, we offer supplementary services like smoke odor removal, ensuring your property not only looks, but also smells and feels as if the fire was a non-event.
Do you need emergency water damage cleanup in Troy?
We respond quickly day or night to all water damage disasters. From small sewer backups, and basement flooding emergencies to large scale disasters at commercial properties and apartment complexes. Our staff has the right training, equipment and resources to begin mitigating your water loss quickly. For the best water damage restoration service in Troy, there is only one company to call, Services Pros of Troy. 
Storms can cause unexpected damage to your property, even with all preparations in place. That's why Service Pros commits to restoring any storm-impacted properties promptly. Our trained crew is well-equipped to restore any property, regardless of its size. Trust Service Pros to bring your property back to its pre-storm condition in a cost-effective manner.
Emergency Property Repairs – Fire, Flood & Water Damage
Black mold can pervade your property within just 48-72 hours following a water leak. If you suspect a leak, don't delay—contact Service Pros immediately! We'll assess the issue on-site promptly. In case of mold, our Service Pros team is specifically trained not just to eliminate the mold but also to sanitize the affected area to avert future mold proliferation.

If you are considering calling a restoration company to come and help you restore your property, call Troy Services Pros! We are ready for your call, day or night!
Services Pros of Troy
501 Executive Drive
Troy, MI 48082
(248) 883-3340
Learn more about us 
Troy Water Department
4693 Rochester Rd
Troy, MI 48085
(248) 524-3370.

Customer Reviews & Testimonials
Found some mold in our attic due to a bad vent, we were concerned it would cost a fortune to clean up. Fortunately, the team from restoration pros got it safely cleaned up without breaking the bank. THANK YOU ! David Green